Hi Everyone!!! X)
So today I am going to talk about the
"Clean and Clear" Daily Pore Cleanser
!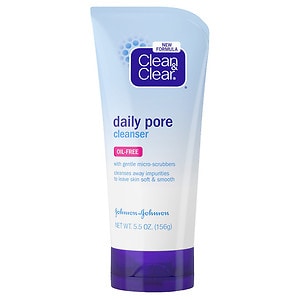 This product can be found at any drugstore, it is very affordable ($5-$7) and I'm sure you can buy it easily online as well.
It contains 5.5 oz or 156 grams of product.
It is oil free and said to gently clean with smooth, round micro-scrubbers.
What do I think of this product?
Actually, I have been using this pore cleanser for at least 5 years now. The container has changed over the years but the formula has stayed the same.
It's consistency is smooth and a bit watery, with tiny tiny white cleansing beads.
I do not break out from this product and it doesn't irritate my skin.
I actually use this as an exfoliator, not a pore cleanser. It's funny because on the back it says it exfoliates but on the front it says it's a pore cleanser...why? I don't know. Maybe it intends to do both.
The thing about this cleanser is that you have to use it correctly. The microscrubbers and formula itself is not irritating but if you use it wrong, it will irritate your skin. If you wash it too harshly on your skin, putting too much pressure/trying to really scrub your skin hard, it will hurt your skin, making it red and raw.
To use it properly, use a small, amount and gently massage it on the face. Especially if you have dry sensitive skin, otherwise it will hurt! I know from experience! XO
Does this product clean my pores? Yes, I think it does haha. Does it reduce pore size? Not that I can tell. But, I get less clogged pores from this product, and therefore less acne, so it does a good job in exfoliating dead skin cells, and not bad in cleaning pores.
I realized I can't use this too often, because it is strong enough to exfoliate my sensitive skin, it can do damage if I use it too often, even if I'm gentle. So, if my skin feels really "sheddy(shedding dead skin that I can see...-__-)" like I have a lot of dead skin on my face, I will use it, especially when it does not feel smooth. Otherwise, I would probably use this 3-5 times a week, and that's enough for me!
Do I recommend this product?
I think this is a good product for normal, oily, combination normal-oily skin, so I
do recommend
it for people with those skin types.
For dry and/or sensitive skin, I do lean on the "
yes
" side
but only
if you use it gently and properly like I described above. If you don't, it will be harsh on your face and you're not gonna like it. I do think it's worth a shot but don't think that the harder you scrub, the cleaner and smoother your skin is going to be. No! Be gentle =) If you do think that this may be too harsh on your skin, there are a couple more exfoliators/pore cleansers that are more gentle which I will talk about in later posts!
However, if you are looking for something easy to find, that affordable, I think this is good to try.
First
try it on the back and palm of your hand and if it's okay,
then
try it on part of the face. If you feel it's too harsh, then I trust your feelings and how your skin feels, so don't use it. If it's okay, then great =)
So I hope this post helped people who are looking for a decent exfoliator/pore cleanser. If you have any questions or any thoughts on this product, feel free to write in the comment section below!
Have an awesome day!
Byeee! XD