Hi everybody!
I have mentioned this product before and this will be a
quick review
just because the product has not changed but the name has.
I am reviewing the
"Clean & Clear" Advantage Acne Spot Treatment gel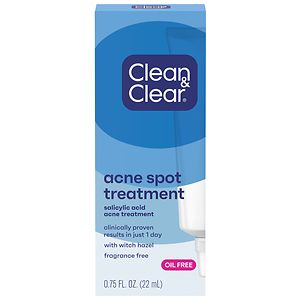 This product costs $6-10 and contains 22mL or 0.75 fluid oz of product.
A while ago I reviewed the
Clean and Clear Advantage Mark Treatment
, as in 2 years ago. They have
renamed
this product as the Acne Spot Treatment.
Because it is basically the same thing, all I want to say that it contains 2% salicylic acid which helps treats and prevents acne. It also helps reduce the inflammation, redness, and swelling that comes with acne and has antiseptic properties that help kill bacteria.
I now use the Advantage Acne Spot Treatment, obviously, since Mark Treatment is no longer continuously produced on the market. It may still be around, but I use the new name.
And it works great! =)
For more information, click on the link for the Mark Treatment above.
Thanks!