Hi! Today I will be reviewing on Aquaphor.
Aquaphor is an ointment skin protectant for dry, cracked or irritated skin.
Ingredients
: mineral oil, ceresin, lanolin alcohol, panthenol, glycerin, bisabolol
I know that mineral oil, lanolin, and glycerin are very heavy and strong oils. Also, if you are allergic to mineral oil, then please do not use this product.
Note
: When talking about cons, this product will never have any negative effects or side effects on the skin itself, from my experience it will definitely not cause redness, inflammation, or irritation. The cons that will be discussed later have to do with something else.
Now onto the review:
Aquaphor Healing Ointment Advanced Therapy
!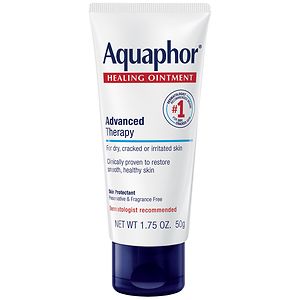 Pros:
This is really good for extremely extremely dry skin, especially if you have painfully dry and cracked skin anywhere, it is a great ointment.
I apply this around my mouth when I go to bed at night (since my dry sensitive skin sucks up moisturizers like no other) and in the morning my skin is nice and clear, no redness, with very visibly reduced tan spots, and well hydrated.
You can also buy this in different amounts/sizes, from large to travel size. It is very versatile.
It is also easily found in any drugstore for a low and very affordable price.
While very slick feeling is does not clog pores, I have never had any breakouts with this, no matter how thickly I apply.
You also need a very very small amount to apply. Because I only use this for irritated parts of my face, I need half a pea size for around my mouth, on my chin, the corners of my nose and dry parts between my brows.
Cons:
The main problem with this ointment is that it feels very sticky, oily and greasy on the skin, and it because it is so powerful, it won't be absorbed entirely.
This means once you apply it anywhere, it will always have a very very shiny oily appearance on the skin.
Which I personally, dislike very much.
It's true it's an ointment, so it's much stronger than a moisturizer and maybe it's supposed to be that way.
But I cannot put this on in public in front of friends etc. I would look like a total greaseball which is kind of disgusting.
This is why I only apply it before going to bed. And I have to be careful that my face doesn't touch clothes, blankets, or pillows because it will definitely rub off onto them.
I only put it on during the day when my skin is having some kind of severe reaction to the weather and is so ridiculously painful and dry that I have no choice but to use it.
Overall
:
I am not saying this is a bad product. It is a very healing product and does wonders to my skin and improves it a lot. It is not irritating, is calms down my angry red skin and keeps it well hydrated for a very long time. It would last all day from 8am till 12am, I am not kidding, it's very long lasting.
The only bad thing about is the appearance and texture on the skin which I cannot stand.
If it didn't have such a problem, this would be my only and number 1 ointment/moisturizer forever.
Would I recommend this product?
If you cannot find anything that works for your skin and it is very painful, itchy, and cracking. Your skin really needs some help and I would recommend this ointment for skin reparation and healing.
If you find it too oily like I do, you can always apply a small amount at night before going to bed.
I would not recommend this as a daytime moisturizer (unless you really have to or really need it), it's stickiness and oily appearance is a turn off for anyone and it would just not work.
If you are going to travel, to a desert or something or a place that is super windy and dry, this would be a good thing to bring. The travel size, though small, is definitely enough, and it works well on chapped lips too!
When I was in China, I was like, oh, it's humid, i'll be fine!
And then I went to Beijing, and it was ridiculously dry, hot, and windy and this ointment saved my skin!
Also, whenever I return to California from a humid country like Taiwan, my skin feels super dry because it became accustomed to the humidity of the previous country. Therefore, this ointment really helped to re-hydrate my skin as it gradually became used to the much dryer California weather.