Hey guys! I hope your summer is going well.
Me being a double major, not so much fun, but I think i've had my share of crazy partying and what not =P.
Anyway, today I will be talking about 2 products I regret buying:
1) pur minerals gel eyeliner
2) Maybelline Color Tattoo cream eyeshadow
Purminerals: Pur Intensity Gel Eyeliner (Carbon)
This can be bought at Sephora, online, and Ulta. I bought this gel eyeliner on their website for $17 and probably paid shipping. It contains 0.17 oz or 5 grams of product.
Why this product didn't work for me?
I read a lot of reviews on the eyeliner. How it was nice and creamy. How pigmented and dark it was. How it dried really well and worked for oily eyelids and that it didn't smear and smudge. So, I bought it. I've been looking for a good gel eyeliner for my oily lids so I decided to try it out.
Sadly, it was a disaster for the entire trip. =(
It is true that this eyeliner is very creamy and the Carbon Black color is very black. I had no problems with those features. I bought this during the winter quarter which means I used it during one of the driest seasons of the year. And within a couple hours, it smudged. And it
smudged badly
. Maybe I should show a picture, but in about 2 hours, I looked like a panda. I only lined my upper lashline and the lower lashline was completely covered in the stuff. It was really bad. It was as if it didn't dry at all...
I still tried for a bit. I thought that maybe I put on too much liner, like too thick, so I tried putting less and drawing a thinner line. It still smudged. =(
And then I was like okay, I will set it with black eyeshadow, maybe it'll work or last longer. Nope, still smudged like my eyes were crying black blood or something....
I always make sure that my moisturizers and eye creams are absorbed before putting on makeup so my makeup won't smear, so it has nothing to do with my skincare or other makeup routines.
After those tries, I pretty much stopped using it. I'm upset because of the cost of this gel liner, because I could have got something better with the same or less money....*sigh* anyway...
Do I recommend this product?
Nope, I don't recommend this product, especially if you have oily eyelids. If it works for you then, great, I'm glad it did. But for some reason it failed miserably with me. I really wanted it to work, but it just didn't. =(
Maybelline Color Tattoo cream eyeshadow (Tough as Taupe)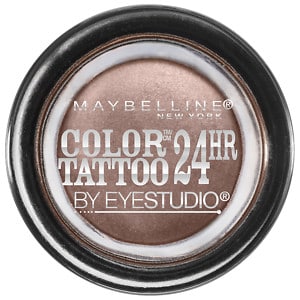 (This is the best picture I could find that had the closest color similarity to what it actually looks like)
Why this product didn't work for me?
So I also read a lot of reviews and watched Youtube videos on this product. People said it was well pigmented, creamy, long lasting, and didn't form creases. I wanted something natural and so I bought Tough as Taupe. The majority of what people said about this cream shadow it true. It is nice and creamy, the application is fine, and it blends well. I have no problem with its longevity. It is long lasting, waterproof, and crease-resistant.
The problem I had was the color. Looking at swatches online, it looked like a decent, taupe color, not took dark or too light. However, this cream shadow was super light on me. I'm Asian and my skin is not that tanned but as an eyeliner, it looked like a light tan line on my lashline, which looks weird. On pictures too, it looks a lot darker than it really is. It is more of a light tan-gray color. Even when I took pictures of this, it still appears darker than it really is.
I bought this cream shadow to use as an eyeliner, but that clearly did not work out.
I may use this as a base for more neutral brown and gray eyeshadows. The thing is, I have a good eyeshadow primer, so I don't really have a need for an eyeshadow base. But if I want a really neutral eye and a strong colorful eyeliner or I need a long lasting base for a neutral look, I'd probably use this. But I won't buy it again, at least not this color.
So, as you can see, the pictures immediately above look darker than the one under the title. It is deceiving, the picture under the title is the correct color. I don't know why everytime I take a picture it turns out darker than it looks.
Also, the swatch, starting from the wide part of the swatch on the left, that is much closer to the actual color of the shadow, than the rest of swatch.
Do I recommend this product?
If you are looking for a good eyeshadow base or you have white/pale skin and you want a good overall lid color, then I think this product is works well. However, if you are looking for a more dark taupe color or if you are looking for a cream eyeliner, I
don't recommend
this product.
So these was a couple of products that I regret buying. Please keep in mind, there were specific things that did not work well for me and that is why I don't like them and regret buying them.
If you have any questions or comments, feel free to write in the comment box below =)
Thank you for reading and I will see you later!