Hi Everyone!
It has been a long time! =)
Today I am reviewing
N.Y.X.'s Slide on Pencil Eyeliner in "Brown Perfection"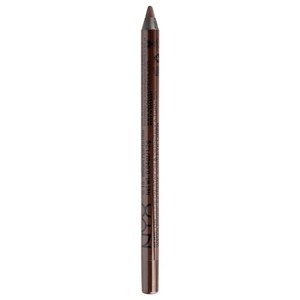 This pencil costs about $7 and can be found at Ulta or at N.Y.X.'s online website.
It is said to be long-lasting and waterproof.
What do I think of this product?
I have talked about N.Y.X.'s Slide on Glide on Pencil Eyeliners before, probably a year or 2 ago. As I have said before, these are amazing pencil liners that are very long lasting and very creamy. The color is highly pigmented and the application is easy and smooth. I find them to be creamier and more smudge-proof than Urban Decay's pencil liners actually!
I have been using this along with (and comparing) Urban Decay's "Demolition" dark brown pencil eyeliner and I have to say I prefer this one.
I like it because it is softer and easier to work with and soften out but it also smudges less at the end of the day! And of course, it is much more affordable. =)
I have been using this pencil all of winter and spring of this year. I think a softened out brown pencil liner gives a much more natural and feminine look which can make your eyes look softer and warmer in winter and very endearing in spring.
I do not set this liner with powder and it lasts almost all day. After a very long day (more than 10 hours) I will get a little bit of smudging on the lower lashline, but it is not that noticeable. As for waterproof, I have not tried swimming with this on, haha, but I have worn this in the rain and when I've teared up and I have not had any problems. I will definitely repurchase this again!
Do I recommend this product?
For those of you looking for good long-lasting soft eyeliners that won't tug on your eye and won't smudge, this is a great product that I
highly recommend
!
There are also a ton of different colors that are available and all of them are just as creamy and pigmented!
Very simple but straightforward review! I have nothing to complain about this product haha.
I hope that this was helpful to you. Feel free to comment or ask questions in the comment box below. Thank you for reading! ^_^