Hi Everyone!
Happy Belated New Year! Errr, sorry, it's been a while. =P
I'm so sorry for not updating recently, I had an exam and a practical today, it was my first practical and I was very nervous for it. And we had only 2 weeks to study for both exams!
By the way, a practical is an exam based on cadavers and radiology, we are show images of cadavers, x-rays, CAT scans, and MRIs, have to either identify structures or knows what happens if they are damaged, so it can be intense!
Anyway, today I am reviewing the
L'Occitane Eye Care & Mask Duo Brightening Correction
This product cost $38 and contains 0.5 oz or 15mL of product. It is said to offer 3 benefits: "a smoother eye area, an even and luminous eye area, and a fresh and rested look" And further describes to reduce wrinkles, firm skin, brighten the eye contour, minimize puffiness and dark circles. And a lot of lovely adjectives describing how wonderful this product is. =P
Directions:
"Apply this melting and fresh gel cream texture each morning and evening. massage the soothing applicator across the eye area and then gently spread a small amount.
To use as mask, apply a thick layer, leave it on for 10 minutes, then wipe off the excess, do not rinse."
What do I think about this product?
So, if you've been with me for a bit, you know that I find most eye creams pretty useless. I personally feel that they don't do much in terms of alleviating dark circles. They may reduce fine lines and puffiness, but not significantly and I'm not old enough to say that they reduce wrinkles, cus...I don't have any yet. =P
However, East Coast winter has been drying my skin out like crazy! Especially with the wind chill! The skin around my eyes get dry, tight, and have dry patches and fine lines start showing up and it feel uncomfortable. =/
I have an eye cream that I use at night, my
Sana Nameraka
. However, that one has retinol in it, so I only use it at night, because it makes my skin sensitive to the sun during the day.
So I was in L'Occitane and tried the sample and I really liked it! I do not like heavy or sticky eye creams, I don't think I'm at the appropriate age to use them and I don't like their texture. The super expensive eye cream at L'Occitane was to heavy for me and the fragrance was too strong.
This eye cream is more like an eye gel, the texture and appearance is gel-like, it spreads on easily and is buildable and absorbs fast. It does not feel sticky or heavy and does not irritate the skin around my eyes. It keeps the skin around my eyes well moisturized all day long! =D And it helped reduce the fine lines I was getting from my dry skin. As for brightening and reducing dark circles, honestly, I can't really tell. I'm also taking medical school classes, which involves not much sleep and, well, having dark circles all the time, so I can't really tell if this made a difference. However, it does reduce my puffy eyes when I don't get enough sleep, so that's good. =)
This is a squeeze tube container that has an applicator tip like so: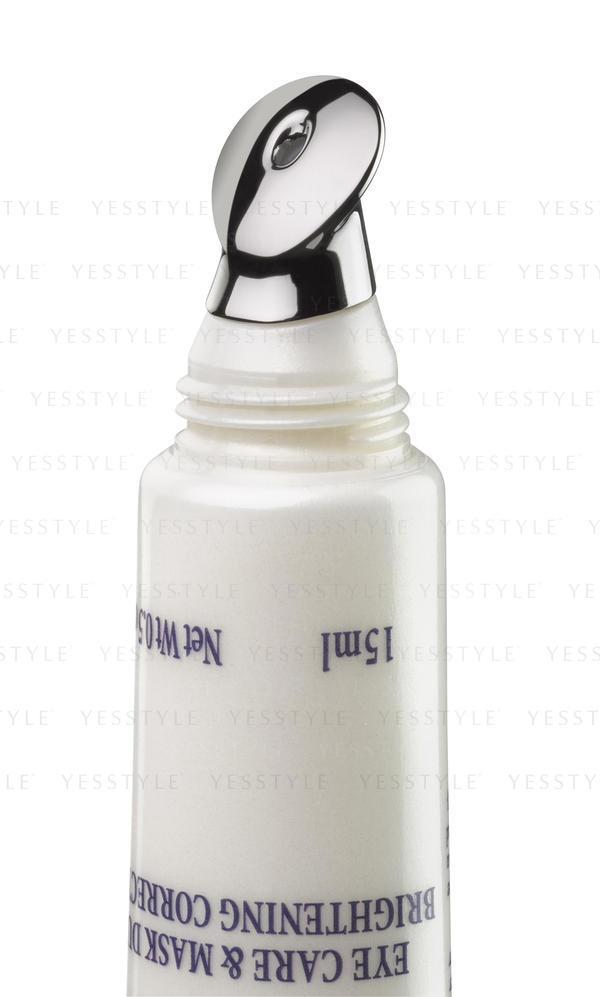 I don't use the applicator tip, just because I put on serum and moisturizer on my face (which includes the skin around my eyes), and I don't like it when products mix together on an applicator. I also find it much easier to just squeeze a bit on my fingers and massage it into my skin. So, I don't really care or have no use for this way of applying the product. =P However, if you like using eye products this way, it's probably very convenient for you.
I have also only used this as a day eye cream, not at night because I use my other one and also to make this product last longer because....it's expensive! I have not used it as an eye mask either, also to save product. So I can't tell you how I think of it as an eye mask, sorry. =/
Overall, I am quite happy with this product. To be honest, I bought it without looking at the price, and if I had saw it, I might not have bought it. =P It is very expensive. However, it worked very well for my skin and the skin around my eyes have not been dry since. =)
Do I recommend this product?
If you are young, 20s-30s, and you are looking for a high-end, light-weight, day and night eye cream for moisturization, fast absorption, and to reduce fine lines and puffiness, I
recommend
this product. =)
If you are an older person, maybe 40s, 50s, and/or you are looking to reduce wrinkles and dark circles, I don't think this product is strong enough for you and you
might want to try something else
.
Also, of course, if you are looking for something more affordable, also, might want to try something else. =P
I hope that this review was helpful to you! Let me know if you have any questions or comments in the comment box below. Thank you so much for reading. =)
I'm sorry for not posting lately, things have been picking up speed and my brain isn't going to memorize all that anatomy by itself, so, I am studying alot! This month and the beginning of next month will be very crazy for me. A 3 hour exam every 2 weeks, so I will probably be studying non-stop! I will try to post when I can! Good luck to those of you in school! Keep on going!