Hi everyone!
Back from spring break! Andddd....into real life? haha, but I haven't had a real spring break for the past couple of years anyway, still working in my research lab everyday and working at the hospital =P. Welcome to the real world, yay! (and taxes haha)
I'm sorry for not posting recently, I have been hired as UCSD staff so my workload and responsibility has definitely increased and it took a bit of time to sort my schedule out. I hope you understand! >.<
Today I am reviewing
Anastasia's Bold & Beautiful Kit
(not sure if you noticed, but the brow pomade and powder positions are switched in this picture compared to the one below...not sure why that is, but my brow set is like the picture below)
I bought it on sale for $14 on Anastasia's website.
This eyebrow and eyeshadow palette comes in 2 compacts or "volumes":
- Vol. 1 "Bold Brows"
- Vol. 2 "Beautiful Eyes"
What do I think of this product?
Overall I like this product and use it quite often, especially the brow makeup. I also got it for a significantly cheaper price that made it all the more worth it. =P
Vol. 1 "Bold Brows"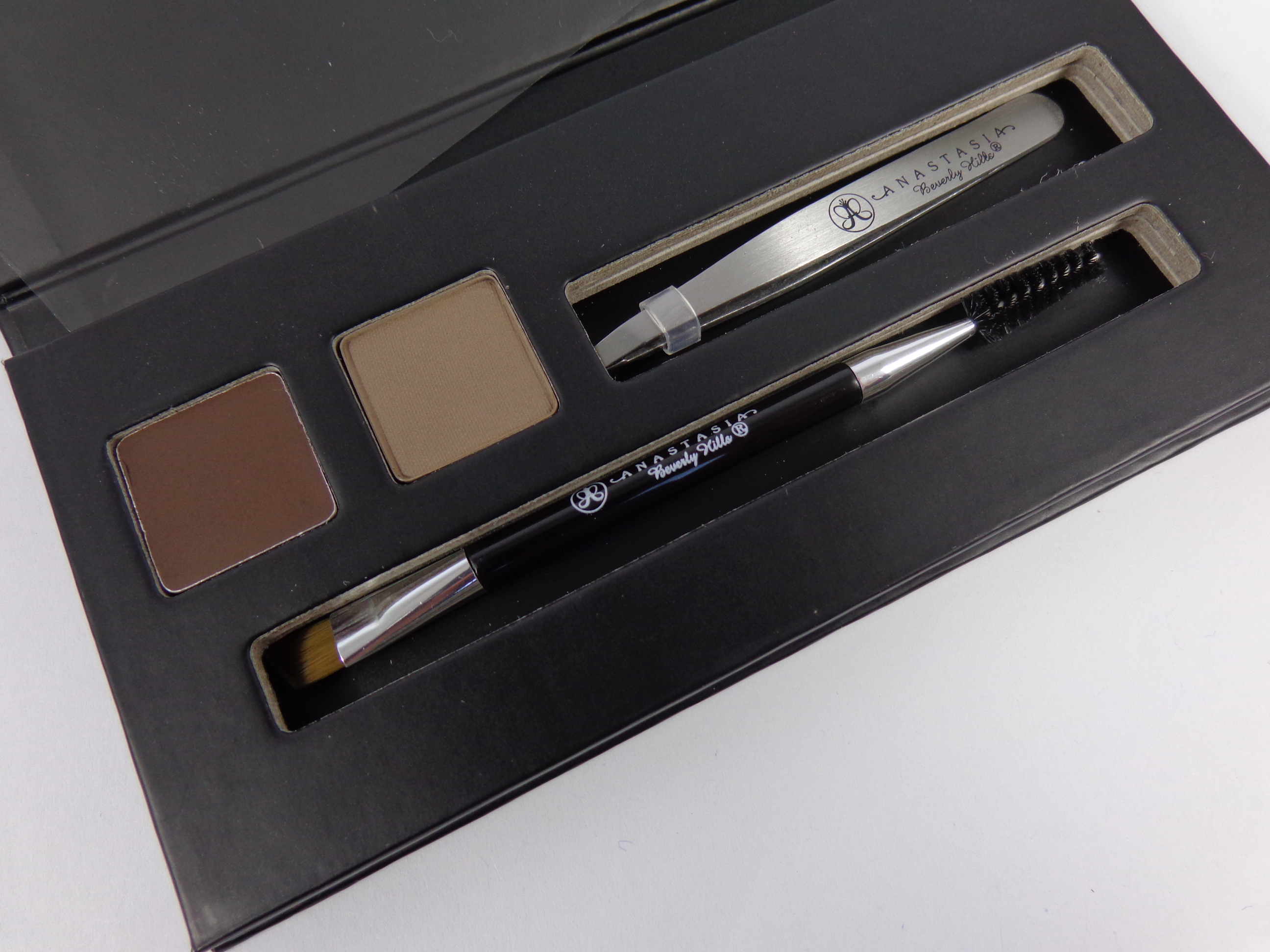 (not my photo, but shows the colors the best)
This was my first time trying Anastasia's new brow pomade. I am not sure what version or color it is because they don't have a color for it for the description. Just says "Pomade" =P, so, compared to the full size versions I don't know which one it is. It is on the darker side though and matches my hair color pretty well.
Initially, I really really liked the pomade, I thought it was perfect. Don't get me wrong, I still like it, and I use it every day because it is still really good. However, I have found something may need some improvement. I also use the pomade everyday, because unlike the full size pomades, it does not have a cap or lid that seals the product. Therefore, it will dry out faster than the full size pomade. I am not sure when it will dry out. So far I have been using it for the past few months, almost everyday, and it seems good. The consistency is still even and soft. I think just recently it has become a little more sticky in the texture but not something I can't work with haha.
The pomade is a long lasting product and does not smear or melt. It lasts pretty well all day, by the end of the day, it does fade a little bit, but I'm fine with that, it will look a little more natural that way. What I did notice that for filling in the sparse areas of my eyebrows, the product is not as pigmented and does not apply as easily compared to applying on to brow hairs. When there are more brow hairs, it sticks on well and is pretty pigmented. However, it is not as pigmented when there are less hairs, which is the skin area. I don't mind it that much, because I usually apply the powder on it to help it darken. But it would definitely save me time if it was more pigmented on the skin so I don't have to do the extra step.
The powder is good. It is an ash-brown color and it suites my eyebrows well. Works just as well as any Anastasia eyebrow powder. =)
I really bought this set for the brow brush. I love that the brush is a dual end with a spoolie! Travel size and travel friendly! It works beautifully and I love it!
The tweezers I have not used yet. I'm sure they are decent. I just have eyebrow tweezers already that work pretty well (from Tweezerman), so I haven't felt the need to try it.
The only problem I have with this palette is that is it hard to get the dual brush and the tweezer out of the palette. The indentation where they sit, is too deep to be picked out with finger and I need to flip over the palette every single time I need something. This also sucks because flipping the palette causes both items to fall out, which is a hassle since I only use the dual brow brush and I need to put back the tweezers every single time....=___=
Here are a couple swatches of the pomade and brow powder:
sdf
Vol. 2 "Beautiful Eyes"
(not my photo, but shows the colors the best)
This is an eyeshadow palette. It comes with its own brush, which isn't too bad for being a palette brush. I don't use it just because I have better brushes available to me. But if I am traveling or I need a brush in a hurry, I think this will do the job well enough.
It has 4 shades, from
left to right
:
- a matte light champagne color
- a shimmery pink color
- a light brown-beige color with gold shimmer
- a black color with gold and red shimmer (I'm not sure about the red, but it looks kind of red)
The
matte light peach color
is great for a natural look. I can highlight my brow bone, the inner corner of my eyes, and the ball of my eyelid. It is not very pigmented but it is decent.
The
shimmer pink
has soft shimmers in it, so it does not reflect light that strongly. It is a soft and feminine eyeshadow that is decently pigmented as well.
The l
ight brown with gold shimmer
is the least pigmented of them all. I can't really tell the difference when I apply it onto my eyes. But I suppose it is great for natural looks, especially if you just want to cover up the blood vessels and veins on your eyes, or improve the complexion.
The
black with gold and red shimmer
is very very pigmented. It is strong, I was so surprised because all the others are not that strong. This is great for lining my eyes or I can use it to darken my makeup for a night look. However, it is really strong and I need to be careful if I am using it on the outer corners of my eyes or in my crease. I can see the sparkles on swatches but on my eyes, they're not that noticeable, so it looks just black, but I don't mind.
Here are a few swatches of the eyeshadows:
All of the photos from top to bottom are in the same order. From top to bottom first is the matte light champagne color, next is the shimmery peach/pink color, after that is the light brown with the gold flecks, and the last is the black with the red/gold sparkles.
Do I recommend this set?
For the price that I got it, I
definitely recommend
this product! It is a great way to try out the brow pomade to see if it works for you without spending more money buying the full size item. It is a great travel essential for eyebrows and everyday makeup and is light, small, and portable. I would bring my own brushes for the eyeshadow though. The one that comes with the palette isn't bad and the bristles are soft, I just don't like the shapes of the brushes (don't work for me).
I don't think this is sold on Anastasia's website anymore but I'm sure it can be found elsewhere online or in stores. I believe I saw it selling at Ulta at one point, but I haven't checked back to see if it is still there.
So I hope you like this review and it was helpful to you =). Thank you for being so patient with me. X) Feel free to comment and ask any questions in the comment box below!
I will see you soon! Thank you for reading!
UPDATE: 05/14/14
I have not finished the pomade yet, I am probably about halfway done. Currently the formula has become a little drier (because of lack of a sealed lid) and stickier. I can still work with it but I just need to blend it more. Also, it makes my eyebrow hairs very pigmented, but does not give my skin (sparse brow areas) the same amount of pigmentation. Therefore, the color intensity is not as strong and it is somewhat noticeable. I have mentioned this before, but after some time and maybe because the pomade is starting to dry out, the difference is starting to become more and more apparent.
UPDATE: 06/28/14
I have basically finished the pomade. And my final thoughts are, I will not repurchase it.
This is because of 2 things:
1) The full size pomade is probably too much for me. I will end up not being able to finish it before it starts drying out. I hate to waste products and money. When it starts drying out, it will start making my eyebrow hairs darker than my skin (where the spares areas that I need to fill). I know the full size comes in a glass jar with weight so that after you close the lid, you let it sit upside-down to prevent air from leaking in. However, I feel that may not be enough.
2) The pomade leaves a residue on my eyebrow brushes that make it difficult to wash off. It kind of leaves an oil behind that makes the bristles sticky and stick together, not dry, soft, and fluffy. I do use special brush soap/shampoo to wash my brushes, but it takes at least 2 or 3 washes to fully get rid of the product. But this is kind of annoying, since I like to use my brushes for multiple things. What if I felt like using powder instead of pomade? Well, I would have to wash and dry 2-3 times before I could use the same brush for powder. I also have a feeling that long term use of a brush with pomade will leave the residue permanently, and I don't like that either.
3) I possibly have found something that I like a lot better and am currently trying it out now. Will review in the near future! =)